Achieve More in 90 Days Than You Usually Do In a Full Year
Yes, really. The #1 piece of feedback we get from our customers is that they see more results in 90 days using the Lean Out Method than they normally do in a full year!
Best of all, they accomplish more by doing less.
When you get crystal clear on your vision and goals and align your weekly and daily activities with them, you cut out all the noise and distractions that get in the way of seeing real (and fast) results in your business!
The Lean Out Planner will show you how.
Get Your 90-Day Planner
So Much More Than a Planner
"It's like carrying around a business coach with you at all times!" - Megan S.
The Lean Out Planner was created exclusively for the small business owner and entrepreneur.
By leveraging lean practices and strategic planning, it features our signature method to help you lean out so you can level up your business by focusing on what matters most right now and eliminating anything that isn't adding value to you and your customers.
What you say 'no' to is just as important as what you say 'yes' to. This is an instrumental theme you'll find throughout this planner, along with other concepts designed to help you create sustainable success beyond your wildest imagination.
Shop Now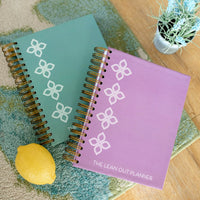 Take A Look Inside the Planner
Want a sneak peek inside the planner? 
We've got you! 
244 pages in total, we've got 53 of the core pages here for you to explore. 
Click the image to enlarge the pages full screen to see every last productivity-inspiring detail.
Our (No-Longer) Secret Strategy for Success
Our strategy is now your strategy.
Created by serial entrepreneur and lean business consultant Crista Grasso, she leverages the same lean and agile practices she has used with some of the most successful Fortune 100 companies to significantly scale beyond their competitors, skyrocket profits, and reduce complexities and overhead.
It is the same strategy she uses in her own product and service based businesses, and the countless small businesses she personally coaches.  With the Lean Out Planner, it is your strategy too. 
Get ready for everyone to be asking you "how did you do that so fast?".
Get Your Planner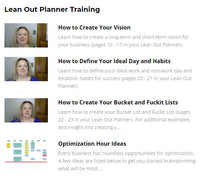 Training and Resources Included
The Lean Out Planner really is like having a coach with you at all times. 
You get instant access to the Lean Out Resource Vault filled with premium resources and training videos to help you make the next 90 days as successful and lean as possible. 
Get Your Planner
Shop the 90-Day Lean Out Planner
The Lean Out Method - Success Simplified
1. Set CONTEXT so you know where you are going and why it is important
2. Gain CLARITY on the right things to be doing right now in your business
3. Make a COMMITMENT to do whatever it takes to achieve your big goals
4. Practice KAIZEN and continuously reflect and improve in order to grow
What Our Customers Have to Say About the Planner
This planner gave me so much clarity. I love the way it started with my vision and kept breaking it down into smaller pieces that feel achievable. I love knowing that what I am doing every day will help me achieve my goals.

Casey
The amount of information included makes it a great resource for managing my small business. It's like carrying around a business coach with you at all times!

Megan S.
"I was totally blown away by the amount of valuable information included – it's like taking a college course on entrepreneurship for $50."

Kate W.
The fuckit list changed my life! I love the whole planner but that was my favorite part.

Mia
This is the best planner I have ever used (and I have seriously tried them ALL)!!

Zoe
I really thrive on clear expectations, achievable goals, and unity of purpose, and boy did this planner deliver! I'm still in shock at the results my team and I were able to achieve in such a short time. Thank you, thank you, thank you!

Karin G.
I love all the quotes to keep me inspired. There are so many unique ones I haven't heard before.

Jade
I love everything about this planner!

Kenzie